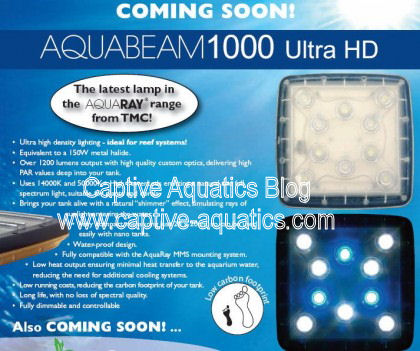 The superior field of LED lighting has a new player: the AquaBeam 1000!  Touting ten intense CREE LED's @ 3 watts each in it's ~8" square waterproof case, the AquaBeam 1000 is rumored to rival a 150w halide.  The LED's range from 14k to 50k in color temperature, so colors should really pop underneath this nifty, modular fixture.
Although no PAR information is available yet, the fixture advertises a 50,000 hour lifespan and a five year warranty.  The unit boasts a 1200 lumen output, but as readers of
the lighting lab
know, lumens don't mean much in a hobby application. 
LED really is the next generation of lighting in all aspects (not just for aquariums!) and I'm glad to see the hobby moving towards more efficient forms of lighting.  Kudos to our allies in the UK at
TMC
for taking the plunge!
Luckily for all CA blog readers, I have a few contacts, and am working to procure a review unit once distribution (from well-known livestock provider
Quality Marine
) starts!  Update: please see our r
eview of the AquaBeam 500
!
---
Like this? Please bookmark via the social bookmarking buttons below, subscribe to our free RSS feed, and sign up for our free weekly newsletter on the right!