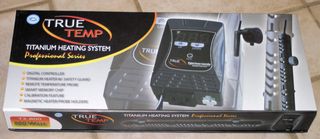 My rep at
JBJ Lighting
was kind enough to send us a whole stack of products over the holidays that I'll be reviewing as time permits. Seeing as Texas just got hit by a cold front, I thought it'd be a fitting time to review the heater I was sent: JBJ's
Professional Series aquarium heaters
; their new line of digitally controlled titanium heaters boasting a ton of great features! Today I'll be reviewing the 800w model.
While not relevant to the operation or quality of the actual product, I have to point out the fact that these heaters come in a svelte, high quality, magnetically closing box. Call me easily impressed, but JBJ took their time packaging this bad boy.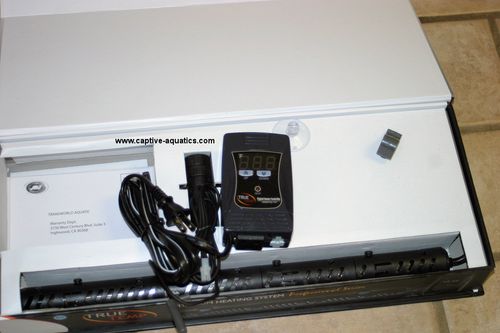 A quick feature overview:


- Titanium body with plastic guard
- Digital temperature controller with LCD temperature display
- Easy-to-calibrate processor that retains settings in the event of a power failure
- Magnetic mounts for both the heater and the separate temperature probe
- Suction cup mount for the external heater controller


JBJ's Professional Series heaters are the luxury of aquarium heaters, that's for sure. After opening the aforementioned spiffy package, it was a snap to get everything ready to go: simply plug the end of the heater cord into the digital controller, snap on the magnet mounts to the body of the heater and to the clip on the temperature probe, and you're good to go. The magnetic mounts are not only an awesome idea, but they work very well: I tested this heater on an old Oceanic 125 I have that's built like a tank with 1/2" glass, and they held perfectly! The magnetic mounts also make repositioning a lot easier than suction cup mounts.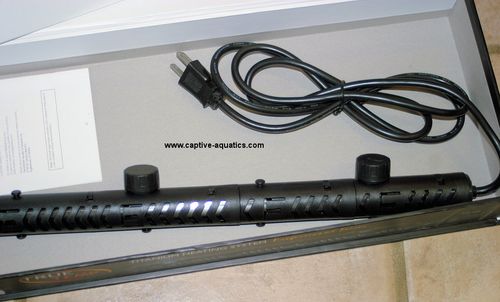 Heater body with the magnetic mounts

This is the first digital heater controller I've used on a home aquarium, and and is nice. I'm all for digital and can't stand analog anything (I even have digital instrument panels in my car!) so I'm a fanboy of this controller. The controller has an LCD readout that displays in tenth-degree increments which is very nice, and it's a snap to program, calibrate, and adjust. However, it only controls aquarium temperature in +/- 1 degree increments, instead of the +/- .1 degree accuracy that it displays (JBJ claims +/- .5 degree accuracy, but in testing it's closer to +/- 1). I'd like to have seen temperature controlled in tenths of a degree, but I'll concede home aquarists don't need this kind of accuracy.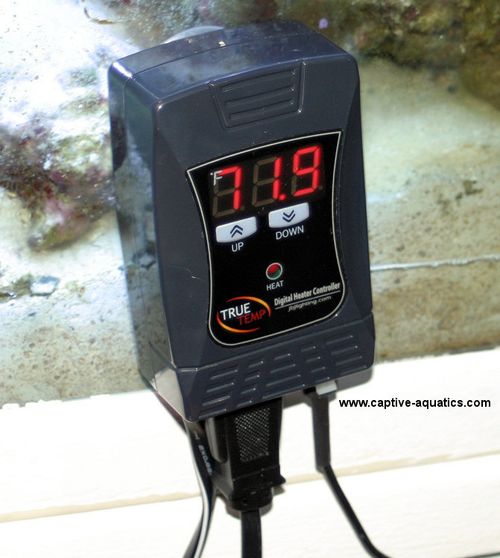 The digital heater controller mounted via suction cup

Another nice touch, and a must-have for accurate temperature control is the separate temperature probe, with its own magnetic mount (a very nice touch).


There's a possibility I'm way too amused with magnets
. Just how do they stay together?!

JBJ's Professional Series heater puts an end the days of non-controlled (or even analog controlled!) heaters for me, that's for sure. No more getting my arms wet trying to adjust the temperature, no more trying to find the thermometer floating around, and definitely no more trying to squish the suction cups back on the the side of the tank because they've popped off! Bottom line? Awesome heaters that I'll be using on my systems from now on.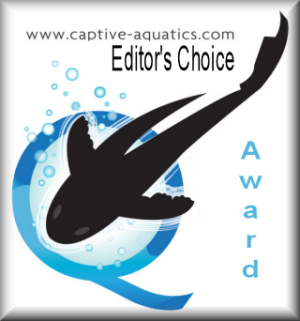 Pros
: Titanium heater, magnetic mounts, digital controller
Cons
: Pricey
Captive Aquatics Blog Verdict
: Editor's Choice
$99-199 depending on wattage,
www.jbjlighting.com
---
©
Captive Aquatics™
/
Captive Aquatics™ Blog
/
Sponsor Info