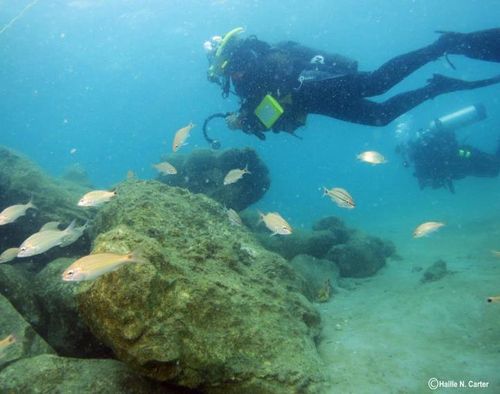 Well, this is my first post as me, although you've probably seen my pictures posted here. My name is Hallie Carter and I'm an environmental ecologist, photographer and dive master currently living in FL! I hope to provide interesting pictures of marine life to compliment those posted by my friends who are living in the southern hemisphere!

I had a a great bridge dive today off the coast of Singer Island, FL! The visibility wasn't great at first, but once we hit slack tide it improved immensely. We checked out the new artificial reef which was very popular to a lot of schooling fish. We also found a juvenile jack-knife fish, batfish, and even an orange seahorse.

Notice the difference in biodiversity compared to the previously posted great barrier reef photos where Mike and Merritt are. No two reefs are the same...anyway, on to the pictures!