There is a lot of debate about mantis shrimp. Most people view them as ugly pests, who maim and destroy everything else in the aquarium they sneak in to. Others, (including myself) enjoy keeping this interestting creature in its own aquarium. To better understand these two radically different view points, you have to better understand the animal itself.


First, lets review the basic morphology of mantis shrimp. They are called "mantis" because of basic similarities in shape to the terrestial Preying Mantis. They are called shrimp because of their tails, which do appear to be the tail of a shrimp. In fact, they are neither. They are in their own family, Stomatopod. They are generally grouped in to two categories:"Smashers" and "Spearers." These are, quite literally, how the separate groups hunt. Smashers have evolved to crush through invertebrates, while spearers have evolved to snatch fish from the water column. Smashers are much more common, because they burrow in to liverock. Spearers generally dwell in burrows constructed in sand, so they are much harder to find. They have highly advanced eyes, arguably the most advanced eyes on earth. Humans have three chloroplasts in their eyes, which allows us to see all of the color in the world around us. Mantis Shrimp, on the other hand, have 11. Can you imagine multiplying the amount of color you see by 8 times? 

Now, it should be obvious why most aquarists dread clicks in their aquariums. Often, these clicks are Mantis Shrimp chipping away at your live rock, or an unfortunate invertebrate. How ever, it is not safe to assume that all clicks are coming from a mantis shrimp. It could be  a hitch hiking pistol shrimp, or a hermit banging its shell against the aquarium walls.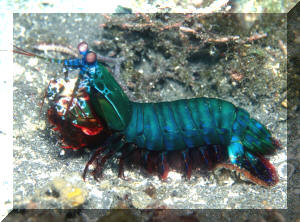 For those of you maintaining a community or reef aquarium, you should not have a Mantis in your tank. While most smashers ignore fish (that don't come near them) and coral, they can and will kill every other little critter in the tank. Any motile invertebrate will be at risk.Some times, very small smashers (N.Wennerae for example) are kept in nano tanks with a clean up crew too large in physical size for them to destroy. It is still important for you to remove any mantis you suspect to be in the aquarium, because what is small now may very well turn in to a large mantis later. There are several methods to find and catch a Mantis Shrimp. So many that it would take another article to cover.

Now, as for those of you interested in maintaining a Mantis Shrimp, I can tell you they are very rewarding to keep. They construct intricate burrows, can some times act like little dogs, and are all around just awesome to watch. Depending on the mantis, you're going to need any thing from a 5 gallon to a 20 gallon aquarium. All you need is a little flow, some illumination to watch them, and you might have to do a water change every other week. There not nick named "Roaches of the Sea" for nothing. Equipment for mantis shrimp can be as cheap as you like. The only special considerations that should be taken is the addition of some live rock. I'm keeping my mantis in a reef aquarium. If you plan to do the same, you have to consider that the mantis might take frags to help camouflage their burrows, so be careful with coral on the sand bed.

Feeding a pet mantis is pretty straight forward. If it comes from the sea, they'll probably eat it. This includes table shrimp, silver sides, hermit crabs, fisherman....never feed a Mantis by hand. All ways use a chop stick, or some tongs. When the mantis shrimp realize what the feeding apparatus does, they will aggressively seek it out and "kill it." Occasionally feed live food. Smashers need to smash in order to maintain the ability, or their arms may very well fall off.

They are very inquisitive creatures, and will inspect any thing you put in the tank. There eyes will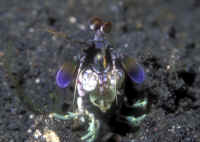 move independently as they explore their surroundings. Mantis Shrimp can be very colorful creatures, and more active species will beg for food when you walk in to the room. Be sure any live rock is planted firmly at the bottom of the aquarium, as they can and will burrow in, on, and around the rock.

So, are Mantis Shrimp pests or pests? I'd say both, depending on the situation. I do ask that all of you who find a hitch hiker mantis to consider keeping the mantis, or at the very least, don't kill them when you do capture them. There are plenty of Mantis enthusiasts that will buy it from you.