Traditionally, Giant Clams of the genus Tridacna (or simply tridacna clams) have been kept in larger reef aquariums, because larger reef aquariums are easier to illuminate, easier to supplement, and have the room needed for these accurately-named animals.  However, I think that one species of the giant clam;
Tridacna crocea
(the crocea clam) makes a good nano candidate as it's maximum size is around five inches.  I wanted to write a short piece that I hope will help everyone interested in clam keeping to achieve success with clams in their nano reef!
Is your nano reef right for a clam
?
Most nanos, including all-in-one nano aquariums will be suitable for a clam.  Nanos are actually good homes for crocea clams, due to the (usually) low amount of water movement, and lack of fish to pick at the clam.  In most nanos, placing clams high in the rockwork will provide them with enough light to thrive.  There is a tendency in recent years to over-illuminate aquariums, but more often than not this only causes photoinhibition.  Crocea clams should fare just fine in the standard all-in-one nano aquariums such as Nano/Biocubes, the Red Sea MAX, etc.

Choosing a clam
I recommend buying all livestock, clams included, from reputable online dealers rather than an LFS.  There are many online dealers that will not ship clams until they are quarantined and known to be disease free.  I have purchased healthy, disease-free clams from quality online vendors (I always recommend online vendors in lieu of fish stores!).  However, if you see a clam you just have to have in your LFS, be sure to check the following to ensure good health:

- Light Reaction: when you cast a shadow over the clam, the clam should react quickly by retracting its mantle.  If the clam is responds slowly or not at all, avoid it

- Gaping is bad: a healthy clams' incurrent siphon should be a narrow, slit-like opening, not a wide oval opening.  Gaping is a sign of stress, and only clams that have only been in a holding tank for a few days should be displaying this sign.  Put down a deposit and wait a few days before purchasing

- Check the foot: ensure the byssal gland ('foot') of the clam is present and intact, not missing or torn.  Also check the food for pyramid snails.  Pyramid snails are small, white, cone shaped snails that feed on clams, and are difficult to eradicate once introduce to your aquarium.
- Pinched Mantle: this is tough to diagnose, because often clams won't fully extend their mantle until acclimated to an aquarium, which could take several weeks.  No one is sure what causes pinched mantle disease (where some or all of the mantle does not extend fully) but freshwater dips have been demonstrated to work as a cure

Once a healthy clam has been purchased, slowly drip acclimate it to your aquarium conditions over the course of 45 minutes to an hour.  Crocea clams are rock-burrowing clams, attaching themselves to rocky substrates and burrowing themselves in to the rock, eventually with only the mantle being exposed.  Crocea clams should be placed in the rockwork, or given a rock on which to attach.  Once you've selected a location for your clam, do not move it!  This will only cause more stress and probably death.  Clams may require days or weeks to become used to their environment, so be patient!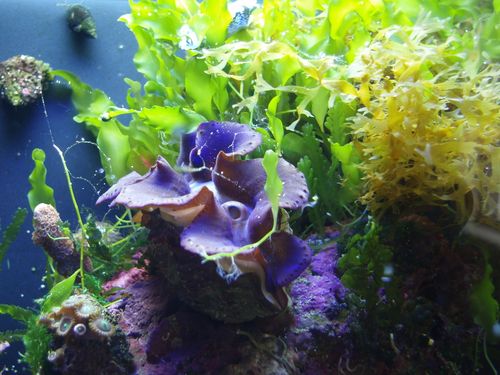 Clam Care
If you have a very low nutrient nano reef (tough to do in such a small environment) your clam may need supplemental feeding.  However, it was recently proven that giant clams do not need to "eat" phytoplankton if there is enough dissolved nitrates and phosphates.  Because of this, clams make great natural filters, turning undesirable organic waste into pretty clam mantle!  Clams evolved to consume phytoplankton because the water surrounding a reef is very nutrient poor (unlike a closed system) so on a reef clams must derive these essential nutrients from phytoplankton in the wild.  Supplemental feeding is not always necessary in captivity if there are measurable nitrates and phosphates present. 
Clams will require lots of calcium, though, (400+ ppm for optimal growth) so frequent water changes (preferably weekly changes of at least 30%) will be necessary to maintain water quality and replace calcium.  I do not recommend anything be dosed into a nano aquarium, water changes are all you'll need.
Clams are fascinating animals that make excellent additions to reef aquariums once a healthy clam is selected and acclimated properly. 
Feel free to share your own stores by commenting, and please
Digg this
article, and subscribe to our free once-weekly email updates!
©
Captive Aquatics™
/
Captive Aquatics™ Blog
/
Sponsor Info