JBJ Lighting
sent several products our way over Christmas break, and I'm almost caught up reviewing them all (see our
TrueTemp review
and our
28 NanoCube hands-on
)!  So, on to yet another JBJ Product: the
Nano GLO LED refugium light
!
The
NanoGLO
is a magnetically mounted LED light designed for JBJ's 28 gallon Nanocube, but is very versatile and can be used on many all-in-one nano aquariums.  The unit consists of four 6500k (the perfect wavelength for macro growth) 1w LED lights in nifty parabolic reflectors.  The light produced is very intense, and penetrates well through about 12" of water.  JBJ advertises the LEDs emitting 70 lumens each, but anyone who's read my article about
lighting marine invertebrates
knows that lumens are a completely pointless measurement in the hobby. 
The magnetic mounting system is designed so that the light sits on the outside of the aquarium parallel to the back glass of the aquarium and shines in horizontally.  However, light can also be mounted inside a hood so that it shines vertically into the top of the refugium compartment.  The magnet is powerful, and I had no problems with stability.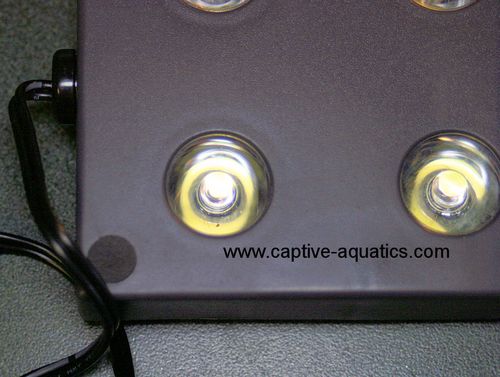 So, how bright is it really?  See for yourself: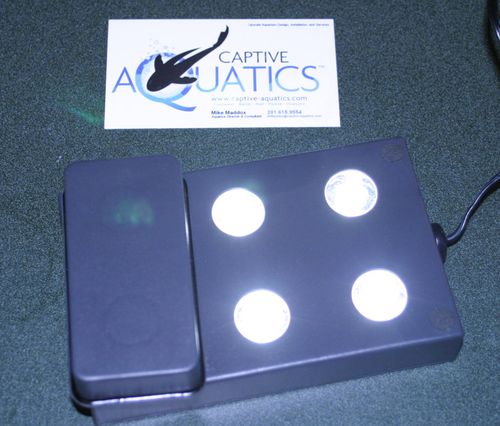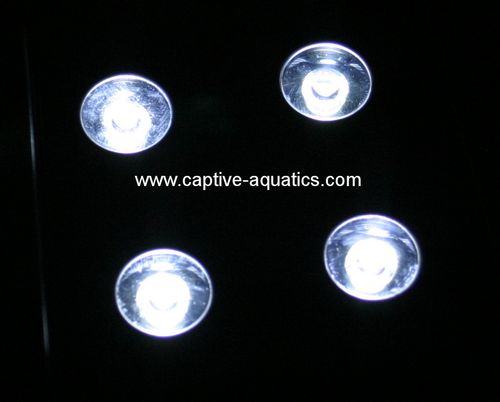 And finally, the specs:
Light Housing DIMS: 3.25" x 0.75"x 5"
Inside Magnet DIMS: 3.25" x 0.75"x1.75"
Light Output: 70 Lumens per LED
Kelvin: 6500K Daylight
Power: 4 x 1 Watt LEDs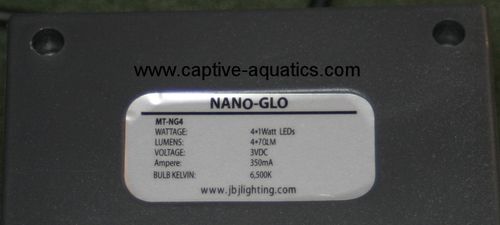 ---
Like this? Please bookmark via the social bookmarking buttons below, subscribe to our free RSS feed, and sign up for our free weekly newsletter on the right!
©
Captive Aquatics™
/
Captive Aquatics™ Blog
/
Sponsor Info