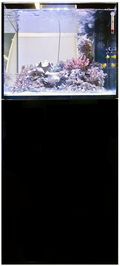 Today from Elos USA:

"The MIDI without light will retail for $1599.99. The MIDI with E-Lite XP will be sold at $2499.99 and the MIDI with AquaTop E-Stripe 60 (2- E-Stripes included) will be sold at $2499.99. The MIDI with AquaTop at $2499.99 is a limited promotion from Italy, and this price will go to $2999.99 after September."  The Midi without the light will only be available online via authorized resellers, however.

Captive Aquatics is also an Elos dealer, and  provide our customers high quality aquariums and top-notch  aquarium products from Elos!
---
Like this? Please bookmark via the social bookmarking buttons below, subscribe to our free RSS feed, and sign up for our free weekly newsletter!