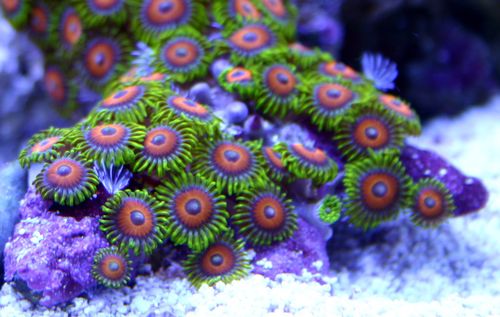 Today, as with most other days recently, I was making frags for a new propagation system at work.  Then out of nowhere, while fragging some Radioactive Dragon Eyes one of the polyps exploded right into my eyes, what a great long distance shot!

Now just for some background, I've gotten zoanthid fruit punch in open cuts before, and even in my eyes countless times, but as soon as this particular brand of sea juice hit my eyes there was a weird, itchy tingling that I hadn't felt any other times.  Having work to do however I pressed on.
And then, about 5-10 seconds later...  HOLY WEAPON OF MASS DESTRUCTION!  Someone must have maced me with battery acid when I wasn't paying attention because that itchy tingling had turned into a stream of lava working intently on its new-found mission to make it to the center of my brain in one straight shot.
After a mad dash to the bathroom, which suddenly seemed considerably further than the mere 200 feet way that it was, and a massive eye wash the burning cut down a bit, leaving a feeling that can only be described as belt sanded retinas.  I forgot all about it and got back to work (yes, my days are that busy sometimes), but about an hour later I started feeling weird.  You know that feeling you get when someone's slowly lowering a couple of cinder blocks, or possibly a small anvil, a few inches under your solar plexus, or how your stomach feels after drinking a gallon of water and sprinting for a few hundred feet?  It was kind of something along those lines, turning luxuries like breathing normally and not throwing up breakfast into chores.
After about an hour that feeling slowly went away.  It was never an "I need to go to the hospital" thing, honestly with a neurotoxin I'm fairly certain a hospital visit wouldn't have done any good, but I'm definitely picking up a bottle of that eye squeegee stuff from the drug store on the way home.  The fancy kind, with the plastic half egg you put on your eye to swirl things around.  The kind you spoil yourself with when you don't have health insurance for eye doctors.
I'm going right back to fragging tomorrow though, one time getting sick out of 200 or so times of getting zoanthids into cuts isn't too bad, but I might invest in some eye-wear.  On a side note my eyes have been blood red the rest of the day the owner here seems pretty convinced that I've been either drunk or worse all day.  Fun times!
So the moral of the story is: don't frag Radioactive Dragon Eyes.  They're so common it's not worth the trouble, and you'll never even make enough to cover the labor of fragging them.  I mean come on, seriously, what do they go for now, like $.50 a polyp?  Are you kidding me?  You can make more than that picking up change in front of Starbucks.  Lesson learned.  Oh yeah, and goggles, something about goggles.
Image credit: omas.org