Editor's Note: this post introduces Ryan Burdios, a Philippino native, biologist and  our latest contributing author!

Tropic Marin salt (the salt used by every major wholesaler in the US) released their  newest sea salt mix formula dubbed Bio-Actif last year.  They sent a bucket to us here at Captive Aquatics, and I have recently switched to this new(er) sea salt mix. I purchased my second box after I was impressed with the first bucket!  Tropic Marin suggests that changing up to 15% weekly will improve the overall health of the tank, and also boost colors, so we'll see if they're right in this review.

Editor's  Contribution: I spoke with Lou Ekus, Director of Operations for Tropic Marin USA regarding Bio-Actif.  He says that there are bioavailable polymers added to the mix that contain trace elements as well as encourage bacterial growth and promote water clarity.  Without further information on the chemistry involved, anecdotal evidence is all that can be reviewed.  Stay tuned for further info regarding water chemistry...

The price is definitely higher than most salts: 1$ a gallon for smaller quantities, although larger quantities are about half that, costing ~.50 cents/gallon.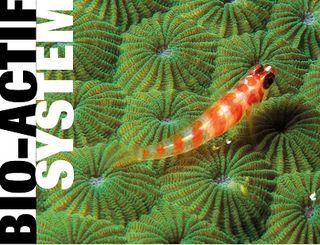 The parameters are as follows:
SG - 1.026
pH: 8.4
Calcium - 440 ppm
Alkalinity - 8 dkh
Magnesium - 1340 ppm
Phosphate - undetectable on API

My initial impressions after my first water change was the clarity of the water. I have always used activated carbon in my tank and switching to this salt actually made the water clearer. After switching to Bio-Actif salt, my skimmer started removing a lot more organics from the water: in the first week, the skimmer pulled out three times as much as usual (due to the added organic polymers)!

After the second water change, I noticed clumping in the sand which meant there was a definite increase in bacteria. During the first week, I did not notice any increase in polyp extension as others reported anecdotally. It was not until the present (eight weeks into testing) that I have noticed the difference in polyp extension. Nothing has been modified in the test aquarium over the last eight weeks, as a control for changes affected or effected only by the bio-actif sea salt mix. 

I did notice much better colors on my sps by week three. However, by week six I felt the coral's colors seemed to have lightened and lost the vibrancy they displayed during week three and remain in this state.

Overall, Tropic Marin's Bio-Actif salt mix seems a solid product. If price does not deter you, I recommend going ahead and trying the salt. I will continue to use the salt to see if there is any long-term differences, so check back for an update!

Pros: Noticeable different in water clarity, anecdotal color improvements reported, parameters are excellent, dissolves readily
Cons: Considerably more expensive than most salts, lack of info
Captive Aquatics Blog Verdict: further testing required, but seems to be an Excellent product similar to Tropic Marin's other sea salt mixes. 

Price varies on quantity purchased, www.tropicmarin.com
---
Like this? Please bookmark via the social bookmarking buttons below, subscribe to our free RSS feed, and sign up for our free weekly newsletter!