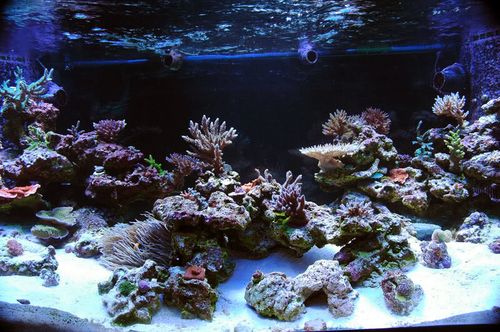 I have been a bad reefer: when I received free liverock I took advantage of it.  I took advantage of it to the point where my tank is literally stuffed to the brim with live rock!  At first, I was happy with it.  But once I realized that cleaning it was a burden, I was instantly regretfull.  This made me do a little research on a term I had heard before "minimalist".


After doing a little bit of research, I found a collection of hundreds of minimalist scapes, and I instantly became intrigued and inspired.  I am setting up a tank for the family soon, and am going to incorporate a minimalist design.  While performing moing more research I found some benefits: increased water floww, remova of 'dead' spots, more room for open swimming fish, and for some, more asthetically pleasing.  The only downside is that there can be less room for coral.
I think with a little planning, the coral placement can allow the tank to appear feel larger, while staying more open, and an open design gives corals more room to grow without competition.
So, consider a minimalist style for your next reef tank or during your next aquascape - I don't think you'll be disappointed!  In the meantime,
subscribe to our free RSS updates
or weekly newsletter so you don't miss out on part two of minimalist aquascapes!
Image courtesy of ReefCentral