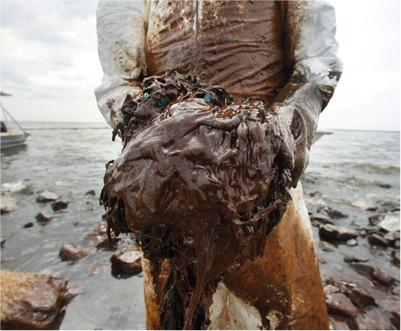 Deepwater reef ecosystems a mere twenty miles from BP's oil leak appear to have "dodged a bullet" according to Steve Ross of the University of North Carolina. Plankton, anemones, coral. and other invertebrates appear to be alive and well, except for those in the immediate vicinity of the leak.


We were all worried that the leak had killed off the deepwater ecosystems in the Gulf, and of course feared the plume spreading to engulf the
Flower Gardens
, but luckily most of the
ecology
appears intact and unharmed! Luckily, Ross reports from a two man sub that the ecology so far is "okay", athough the overall ecological health of the Gulf of Mexico has of course dropped. Unfotunately, some deepwater corals were smothered, but luckily the damage wasn't as bad as was feared.
More info can be found at the
original article here.
Image info: a cleanup worker holds a saturated absorbent pad. Image credit: Associated Press.