Since I use T5 lighting over my farm system, I'm always comparing different bulb colorations to use in different combinations. The spectral graphs of some of these bulbs are a pain to find sometimes, so here they all are in one place!


For metal halides, a lot of people tend to model their T5's after Phoenix 14k's and Radium 20k's. You can find the spectral graphs for both from
Sanjay Joshi's unblievably helpful study
. The Grim Reefer from ReefCentral has done some PAR analysis on several bulbs, that you can find here:
http://tfivetesting.googlepages.com/par
.
I am only looking at Giesemann and ATI bulbs at this time as well as KZ's Fiji Purple, if you would like to see other bulbs here please feel free to send us the spectrographs.
White Daylight Bulbs
Top - Giesemann Aquablue Plus - An OK bulb, but is A LOT yellower than they claim, to me this thing looks more like 8-9k. This bulb is good for SPS and LPS, but has a tendency to brown out some SPS and stress LPS. I used these for a while before switching over to the ATI's and have never looked back. Put one of these side by side with an ATI Aqua Blue and you'll switch over pretty quickly too.

Bottom - ATI Aquablue Special - A nice, crisp white bulb, and the only T5 I've ever seen that looked a lot like a Phoenix 14k, although they say that it looks like a 12k. You can see that the 450 spectrum peaks much higher than the Giesemanns above, giving it a much more crisp blue color with a lower tendency to grow too much zooxanthellae algae and brown out corals. The tri-band spectrum on this bulb is excellent, and the lower intensity of reds and yellows in the upper spectrum compared to the Giesemanns gives it more of a softer, 14k feeling.
Actinic Bulbs
Top - Giesemann Actinic Plus - A good actinic bulb, brings out the blues but has par to spare. I used these in my farm with good results, but then I found ATI's...

Bottom - ATI Blue Plus - My home tank has 2x24w ATI Aquablue Special and 2x24w ATI Blue Plus, and I get colors in this tank that blow the farm system away. I now use ATI bulbs for everything, the quality of other bulbs simply doesn't compare. The spectral graphs for the two do look nearly identical, but as you can see from The Grim Reefer's par studies though, the PAR on the ATI bulbs is about 20% higher than the par on the giesemann bulbs.
Specialty Bulbs
Giesemann Pure Actinics - These are a bulb that is thick in the purple spectrum, although without as much par as most other T5's. I've had great results with these bringing out some very nice fluorescent pigments in corals, but generally the best results I've seen are on greens, blues and purples. As you can see, this bulb doesn't do much at all for yellows and pinks, so I tend to put one of these second to last on one side of the fixture, and then place my cream colored lower light SPS there to get them really, really bright. On the other hand I've never seen tabling Acroporas look nicer than under a combination including one of these bulbs, even pink ones like hyacinthus, go figure... Use these bulbs sparingly, I have two in my 8x54w fixture and they work well.
ATI Pro Color - I can't seem to find the spectral graph for these bulbs, but they are red, and I mean way, way red. Everyone seems to have great things to say about them, so do keep that in mind when it comes to my experiences with them, and they do bring out the red colors in corals. They also bring out the browns, and I mean way, way browns. I used these for about 15 minutes on one of my tanks. I had blue corals that looked brown under these. Anything cream colored? Brown. Basically, anything that wasn't red looked terrible, and this was with only one bulb in a 6x54w fixture. I tried it in one of my 8x54w fixtures with exactly the same results. Fortunately, I managed to remove the bulbs within a few minutes, because I would have gotten physically ill if I had to look at the awful colors that this thing made corals look like in my tanks. Anyone want a procolor bulb? I'll trade two 54w pro color bulbs for a small box of m and m cookies. No, seriously. (Editor's Note: I've been informed that this bulb has been discontinued and replaced with the ATI Purple Plus - Thanks, Reggie!)
ATI Purple Plus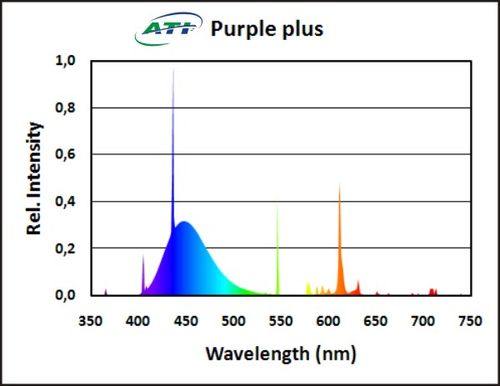 Korallen Zucht Fiji Purple - Do you know how nearly impossible it was to find this spectral graph? I actually can't even remember how I came across it, but this is the graph for KZ's Fiji Purple. This bulb is pinkish in appearance, and tends to bring out more of the red colors in corals. I've had great results with these bulbs, and when combined with a giesemann pure actinic they make the colors really glow. My favorite combination at the moment in my 8 bulb fixtures are 6 x ATI Blue Plus, 1 Fiji Purple, and 1 Pure Actinic. In my SPS system I replaced the pure actinic with an ATI Aquaspezial.