One of my favorite fish of both the saltwater and freshwater hobby of aquariums are the puffer fish. Their dog-like personalities and their cute faces have caught my heart since I started in the hobby. Many new hobbyists can identify a puffer fish fairly quickly, and this has cause the group to rise in popularity. Here is a list of some freshwater puffers and some brackish water puffers that are found commonly in pet stores.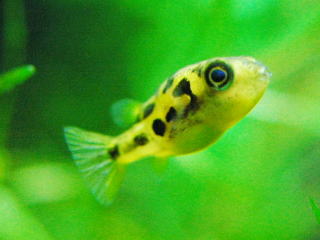 1. Indian Dwarf Puffer or Pea puffer (Carinotetraodon travancoricus): These are truly freshwater puffers that do not require any salt added to their tank. The largest size of a dwarf puffer is one inch, but don't let their size fool you! They are just as obnoxious as the larger puffers picking on fish and throwing tantrums for food. A challenge to keeping dwarf puffers is that they do not accept frozen food very well, and need to be weened off of live food. When bought in stores these little guys are usually near death due to starvation, so be prepared to have live foods handy. I would only recommend dwarf puffers for an experienced hobbyist with a species only tank that contains lots of hiding space. With their small size many can be kept together so I would recommend keeping one for every five gallons. Ensure there are plenty of hiding spaces and decor to block line-of-sight, because dwarf puffers are extremely territorial. Also ensure to scatter food around the entire aquarium as they will defend their territories and starve each other if they can!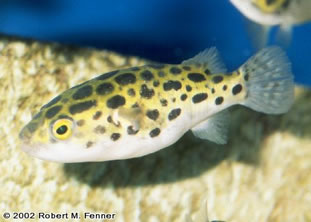 2. Green Spotted Puffer or GSP (Tetraodon nigroviridis): The GSPs are found in every pet store, and sometimes labeled as freshwater fish, but require require brackish water. Many do not survive long if kept in pure freshwater. A specific gravity from 1.005 to 1.010 is perfect, and they can even live at saltwater aquarium salinity. Unlike the dwarf puffers, the green spotted puffers will eat anything you give them and should not be kept in groups due to their larger size and mean temperment(around 6 inches!).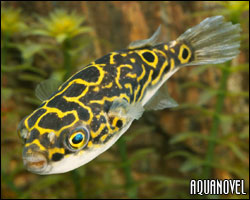 3. Figure-Eight Puffer (Tetraodon biocellatus): Another commonly sold "freshwater" puffer that absolutely requires brackish water for survival. I have seen these puffers at many local fish stores and they are easy to keep. One figure-eight puffer can be kept in a community tank due to their less aggressive behavior, but I have had some that would harass tank mates (just to warn you!). They only get 2.5 inches long and prefer live foods over frozen.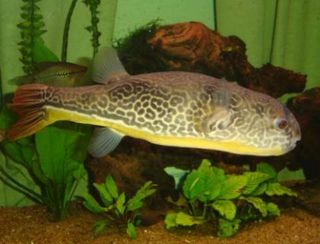 4. Mbu Puffer (Tetraodon mbu): My personal favorite freshwater puffer is the Mbu puffer. Mbu puffers are the largest freshwater puffers, reaching a monstrous 26 inches long! Mbus come from Lake Tanganyika in Africa, and should only be kept by the most experienced of hobbiest with the deepest pockets. I personally feel these puffers are overly exported and exposed to horrible conditions due to their large sizes. Many hobbiest can not afford a 1000 gallon aquarium ( minimum tank size!) and these amazing puffers suffer because of this. Mbus are considered to be great community fish that compete with the dog for attention! Mbu puffers will eat frozen crustaceans and mollusks. They require massive filtration for their messy eating habits and need play time with their owners or will easily get bored. You should absolutely never even consider owning one of these gorgeous giants without currently owning a 500+ gallon aquarium (ideally 1000+ gallons).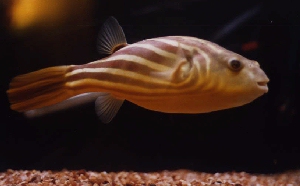 5. Fahaka Puffer or Lined Puffer (Tetraodon lineatus): Fahaka puffers are another large freshwater puffer reaching 18 inches very quickly. They require a aquarium no less than 180 gallons with ample swimming space. The fahaka puffer is very aggresive and should be kept alone. These puffers are very popular due to their coloring and due to the fact that they are a large puffer that is easier to keep than a mbu puffer.

All pufferfish need a varied diet ,and cannot live on just shrimp and/or crawfish. In fact, crustaceans should not make up more than 20% of a puffer's diet! Instead, a constant and varied supply of freshwater shellfish (fresh raw clams and mussels, available from your grocery store) along with quality frozen food should be offered. For large puffers like the Mbu and Fahaka, expect to spend quite a bit ($25-100) per month on food!

---
Like this? Please bookmark via the social bookmarking buttons below, subscribe to our free RSS feed, and sign up for our free weekly newsletter!
© Captive Aquatics™ | CA Blog |