Stichodactyla spp anemones, otherwise known as carpet anemones, are fascinating creatures, and are highly sought after by hobbyists but have very specific care requirements. Carpet anemones are very challenging to maintain in the home aquarium, and few hobbyists are able to attain long term success. After caring for my own carpet anemones for the last few years, I'd like to offer my insight into these fascinating and beautiful anemones, and try to point out why aquarists so often fail to maintain these animals in the long (and short) term, and better prepare you for success.
Are you willing and ready to care for a large carpet anemone?

Carpet anemones should not be purchased by the inexperienced aquarist! Carpet anemones need very large, stable systems preferably designed specifically with the anemone in mind. A minimum of 125 gallons (larger is always better) will be required for all large Stichodactyla, as these monster anemones can obtain up to a meter in diameter! Equal to their size is their appetite: carpet anemones are deceptive but effective predators, stinging and killing anything that gets too close to their sticky tentacles. Most fish will fall prey to a carpet anemone at some point or another (possibly even clownfish), so they are not tankmate friendly. There are some species that live in symbiosis with carpet anemones and make potentially suitable tankmates, as I will discuss.
Carpet anemones often elude the success of even the experienced reef aquarist. One of the common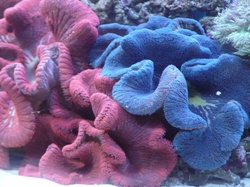 mistakes more experienced aquarists make is adding a carpet anemone to a 'garden-reef' type aquarium. As I will discuss later in this article, carpet anemones and the sessile coral species kept by aquarists do not hail from the same area on a reef, and should be housed together only with caution, and only in very large aquariums. For optimum chance of success in years to come, I recommend all carpet anemones be kept in a dedicated 'species' aquarium specifically for the anemone, and not in a 'garden-type' reef aquarium. Carpet anemones are motile and aggressive, and mixing these animals with sessile corals will not end in long term success for either animal. Carpet anemones require a serious commitment, and are not an ideal choice for everyone, so please consider this before purchasing a specimen.

The natural history of the large carpet anemones

It is important for hobbyists to be aware of the natural history of the animals they plan to keep, especially carpet anemones, as they have different requirements than the corals and other invertebrates commonly housed by reef aquarists. Understanding the life history of the carpet anemones will better prepare you for the proper care of carpet anemones, and will improve your chances of success with this difficult genus. I will discuss the natural history of the three large carpet anemone species that the marine aquarist is most likely to encounter in the hobby:

Stichodactyla haddoni
Range: East African coast to Madagascar, Australia, Red Sea, Southern Japan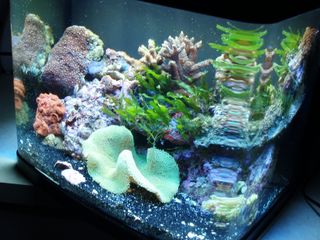 S. haddoni, or Haddon's carpet anemone, is the most commonly imported and readily available of the large carpet anemones, and can be identified by its thick central column with large pedal disc, very short, stubby tentacles and tentacle-free oral area, and attains a diameter of about 60 cm. Contrary to the popular belief that this species lives "on a reef", S. haddoni resides in the sand flats on the outskirts of reefs, where it consumes any and all animal matter that comes in contact with its tentacles. When threatened, Haddon's anemone can pull itself completely beneath the sand, in an effort to escape predators. In the home aquarium, S. haddoni will need a sand bed of at least four, and preferably six inches, as it is an unnatural and uncommon for this species to be content attached to a rocky substrate. Haddon's carpet anemone is very sticky and will instantly and aggressively grab on to almost anything it touches, and also has a very strong sting. Most animals that come in contact with the tentacles of Haddon's anemone will stick to the anemone and be killed by its nematocysts in a few seconds to a few minutes. Be careful when handling this species, because sensitive individuals may develop an itchy rash if the anemone makes contact with bare skin. Haddon's carpet anemone occurs in several color variations: green, tan, red, blue, with green and tan being the most commonly seen.

Stichodactyla gigantea
Range: Red Sea, Japan, Micronesia, Fiji
S. gigantea, or the gigantic carpet anemone, is rarely imported, grows very large (up to a meter in diameter!), has a thin central column, and has slightly longer tentacles that give this anemone a "furry" appearance. S. gigantea resides in the shallow intertidal sand flats, where it is an opportunistic predator and scavenger, consuming animal matter, fish and invertebrates washed in and out with the tide. Like S. haddoni, the gigantic carpet anemone will need a deep sand bed in the home aquarium, though in contrast, cannot pull itself completely beneath the sand. While the gigantic carpet anemone is not as sticky or aggressive as Haddon's carpet anemone, it is still a predator, and will sting and consume anything brushing by its tentacles. While all large carpet anemone species need intense lighting, the gigantic carpet anemone will require the most intense. The gigantic carpet anemone occurs in blue, red, green, purple, and pink color morphs.

Stichodactyla mertensii
Range: Malasia, Indonesia, Southern Japan, East African Cost to Australia
S. mertensii, or Merten's carpet anemone, is the rarest of the carpet anemones, and is seldom seen in the ornamental aquatics trade. Merten's carpet anemone is the only species of the large carpet anemones that is naturally found attached to rocky substrates, usually in deeper water than S. haddoni and S. gigantea, and can be identified by it's flattened, 'rock-hugging' appearance, short tentacles, verrucae (small finger like projections) on its small pedal disc, and is the only species that has a naturally occurring white (non-bleached) color variation. Merten's carpet anemone occurs in the aforementioned white color morph, as well as green, tan, and purple.

Caring for large carpet anemones in the home aquarium

If you are still interested in keeping one of these beautiful carpet anemones in your home despite the challenges, here is where the fun begins! Remember: prior experience with marine invertebrates is a must before success with one of these giants can be had, and this article assumes that you are already well versed in the care of captive marine invertebrates.

The System


Carpet anemones need a large, stable, and established marine aquarium.
Stychodactyla
spp. anemones should not be subjected to parameter changes in their environment, as they will not be tolerated and will result in the death of the anemone.
Water parameters and temperature should remain rock steady at all times in order for long term success to be had.
Do not simply put together a new marine system and expect success!
A 125 gallon or larger aquarium is highly recommended, and preferably one that has been running six months at the bare minimum.
As previously mentioned, a sufficiently deep sand bed will need to be present if you are interested in either
S. haddoni
or
S. gigantea
.
Random, turbulent water flow will need to be present in sufficient turnover volume to lightly 'ruffle' the edges of the anemone, anything else (especially laminar streams) is is likely to be excessive.
'Powerhead' type pumps should not be used in marine systems containing anemones, as the animal can and will be killed by the pump intake.
All overflow and other similar areas should have their intakes covered with a sponge, to prevent damage should the anemone go wondering around the aquarium when you least expect it!
Lighting
All three species of large carpet anemones need intense lighting.
VHO, T5, or metal halide lighting will be a necessity, depending upon the depth of the aquarium.
Lighting in the 5,500-10,000 kelvin temperature range is recommended, excessive use of the blue spectrum is useless from a photosynthetic perspective and energetically wasteful.
S. haddoni
and
S. mertensii
are more adaptable to variations in light intensity than is
S. gigantea
.
Feeding
Carpet anemones are voracious eaters, and all species should be fed weekly to bi-weekly, depending upon the health and size of the animal and the lighting conditions in the aquarium.
Carpet anemones should be fed raw, minced meaty seafood items (shrimp, shellfish, fish, and krill to name a few, attained from your local grocery store), chopped to about 5mm in size.
Anemones do not have the capacity to "think" and will grab and attempt to ingest any meaty item that is fed to them, but do not mistake this as a reason to feed large pieces or whole animals (shrimp, fish), which will usually be regurgitated later and can possibly injure the animal internally.
A healthy animal should be fed approximately once weekly, preferably with food soaked in a vitamin supplement and Selcon.
More frequent feedings will result in an increased growth rate.
Tankmates
I highly recommend carpet anemones be kept in a species specific display aquarium.
Carpet anemones
will eventually kill passive fish, and large or aggressive fish (like puffers and triggerfish) may destroy the anemone.
Very few tankmates are recommended for carpet anemones, with the appropriate symbiotic clownfish or anemoneshrimp (
Periclemenes
spp.) species.
An uncommon but interesting tankmate would be the Periclemenes species of anemoneshrimp, which live in a symbiotic relationship with anemones for protection. These small (3-6cm) shrimp host in anemones in much the same fashion as clownfish, although are much less common in the hobby. Anemoneshrimp make fascinating symbiotic additions to an aquarium dedicated to a carpet anemone in lieu of the more common clownfish and anemone pair.
In an environment that is host to a carpet anemone where the "less-is-more" mentality holds strong in terms of tankmates; symbiotic animals can add beautiful aquatic variance in an aquarium otherwise devoid of movement.

Choosing a healthy carpet anemone

Now it's time for the exciting part: buying your first carpet anemone! This is an incredibly critical part of achieving success in the captive care of carpet anemones. An inexperienced aquarist has virtually no chance of saving an unhealthy specimen (even an advanced aquarist would have difficulties!) so choose a healthy specimen. If you are buying a carpet anemone from a local fish store, have the dealer hold the animal for an entire week at least. Carpet anemones have difficulty tolerating changes in their environment, and buying a carpet anemone that was recently acclimated and then moving it two days later will most likely lead to the death of the animal. When inspecting an anemone, the most important thing to look for is a closed 'mouth' (oral cavity). An open or gaping oral cavity, or expended internal organs are all signs of stress, and these animals should not be purchased. Determine how the anemone reacts to food touching its tentacles: healthy carpet anemones are very sticky, and will 'grab' the food and react by folding around the food item and moving it towards their oral cavity. If the anemone isn't sticky or does not react to food, it is probably stressed, and should be left in the dealer's aquarium for the time being. If you plan on buying a carpet anemone from an online vendor, request a picture of the animal, ask how long they have had the animal in their holding facilities, and ask if it is eating well. Regardless of where you make your purchase, avoid white or (bleached) animals with a passion (excepting S. mertensii) because these animals have expelled their endosymbiotic Zooxanthellae alga due to stress and will likely perish. Remember, starting out with a healthy animal is paramount to your success!

Carpet anemones are fascinating and beautiful animals, but the decision to purchase one should not be made lightly. Carpet anemones are difficult to care for, and have a miserable mortality rate of over 90% in the first year in captivity. If you are not dedicated to maintaining a carpet anemone, or if you do not have a dedicated system specifically for a carpet anemone, do not purchase one. If you are one of the few aquarists dedicated enough to go the 'extra mile' and make a serious effort to successfully house one of these amazing anemones, you will be rewarded with a unique display of nature in your aquarium!
---
Like this? Please bookmark via the social bookmarking buttons below, subscribe to our free RSS feed, and sign up for our free weekly newsletter on the right!