Welcome to aquarium product reviews at the Captive Aquatics blog, your source for accurate aquarium product reviews, and more! 



We begin May's protein skimmer roundup with a classic protein skimmer line that has been serving the hobby well for nearly two decades.  Red Sea was kind enough to donate their latest skimmer for review, and now it's time to see if the Berlin X2 Turbo maintains the same standard of quality and versatility that the Berlin series of skimmers is known for! 

The Berlin series of skimmers have always been versatile, and the new X2 is no  exception.  The X2 boasts all of the standard Berlin features, include in-sump and hang-on-the-back options,

as well as the triple pass feature. However, the X2 tosses in some new features including the Foam View cup, new turbo pinwheel, and increased flow rate through the skimmer.  Red Sea has placed the X2's rating at 225 gallons for fish only, 125 gallons for soft/mixed reef, and 75 gallons for SPS. 
Red Sea's attention to detail was apparent as soon as I opened the box.  The parts were well  machined and fit perfectly together, and there was even a convenient bracket for keeping everything neat when using the skimmer in hang-on mode!

Installation was slightly more complex than most skimmers I've dealt with, but quick-connect fittings and O-rings thwarted any concerns about leaks.  One drawback was the pump cover being  slightly too small and not snapping on like it was supposed to, possibly interfering with skimming operations if it were to fall off.  The pump was nicely efficient, though, drawing only 40 watts. 

So, how well does the X2 skim?  Let's find out!

The X2  produced a nice cup of skimmate after only one day!  This is the lowest  break-in time I've seen, and a very nice change from the tweaking other skimmers require.  Even nicer? NO microbubbles! 
The X2 spits out a great cup of wet foam for those that like to keep their aquariums well-skimmed.  I wasn't able to get a really dry foam, but that's tough to get in a skimmer lacking a wide body.  The X2's collection cup also has a drain port, which is a nice feature.  Check out the foam-view window, which is very neat!
In the below picture, I've installed the X2 in hang-on mode so that I could get some good pictures of the skimming action.  The triple pass works: water must make a full three passes through the column before exiting the drain ports!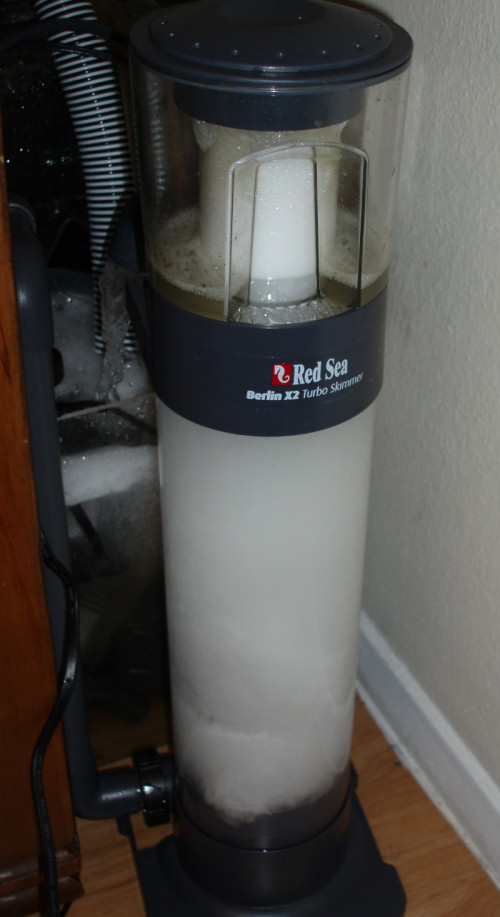 The foam view window allows you to monitor the foam quality in the neck of the skimmer, a nice feature that's unique to the X2 Turbo as far as I know. 

Pros: in-sump or hang-on installation, quality construction, many features
Cons: pump casing doesn't fit well

Given the solid construction, myriad of features, fast break in times, and slim footprint of the X2 turbo, I've decided to give this skimmer a rating of Excellent.  Congratulations to the folks at Red Sea for another quality and versatile protein skimmer! 

$250, www.redseafish.com
---

Test system: 175 gallon fish only aquarium with a 60 gallon wet-dry/sump, 6" deep sand bed, and a medium bioload.  To view the Captive Aquatics blog rating guidelines, or to submit a product for review visit the aquarium products review page.  Don't forget to check back next Tuesday for our review of the AquaEuro Classic 135 protein skimmer!