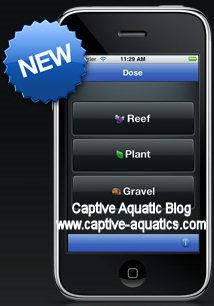 Seachem, my favorite manufacturer of media and additives, has announced two new products!  One is an iPhone dosing app, that you can get
here
, and the other (and even better!) is their new salt mix,
Salinity
.
Salinity is part of Seachem's newer premium line, aquavitro™.  I'm excited about their new salt, as I've always trusted Seachem to delivery quality products.  The tech specs for Salinity can be found
here
.  I really like how they've formulated the mixture to mix to a pH of 8.6 - I'm so tired of having to raise the pH of my mix water from ~8.2ish to 8.5!  Additionally, the salt will be highly concentrated, mixing to the desired salinity with less volume than other brands.  Additional specs @ 35ppt salinity:
- 8.6 pH
- 3.5 meq/l Alkalinity
- 440ppm calcium
- 1300-1400ppm Magnesium
In addition, and following Seachem's trend of excellent, Seachem will individually test each batch, and print the chemical specifications on the label of each salt package.  This is revolutionary, because there is inevitably some variation in trace elements, etc - not every chemical compound can be controlled to the +/- 1ppm.  It's great of Seachem to not only test each batch, but pass that information along to hobbyists.  Transparency is what this hobby needs!
As usual, the Captive Aquatics blog will be bringing you a review of their new salt soon!

©
Captive Aquatics™
/
Captive Aquatics™ Blog
/
Sponsor Info