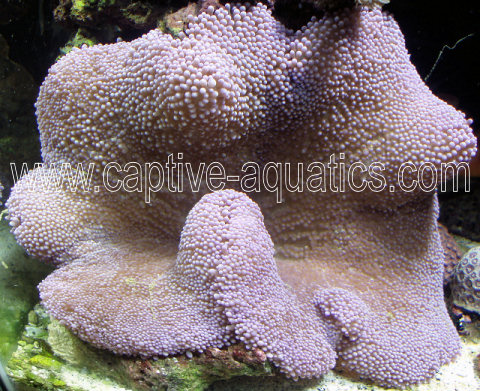 The author's purple S. haddoni carpet anemone, in a species biotope aquarium
1.  Anemones are not reef crest animals, meaning they do not live in the same area as most corals.  Anemones fare much better in species aquariums than they do in a reef aquarium.  Anemones will move around, sting and/or kill corals, and can consume your fish!
2.  Koralia pumps, powerheads, overflows, and other areas of high water flow can and will kill your anemone at some point.  Cover anything with a high rate of flow with sponge, or be prepared for shredded anemone, killing everything in your aquarium.

3.  Anemones in the wild do not die of old age, and can live for tens of centuries.  Do not purchase one lightly, without taking the time to educate yourself regarding proper care, and setting up an aquarium specifically for your anemone.  I highly recommend
Wet Web Media
as an excellent source of information for anemones (and other aquatic animals).  You can also read my article about
carpet anemone care
. 
4.  Clownfish do not need an anemone to survive, thrive, or breed.  They'll be perfectly happy without one!

---
Like this? Please bookmark via the social bookmarking buttons below, subscribe to our free RSS feed, and sign up for our free weekly newsletter on the right!
©
Captive Aquatics™
|
CA Blog
|
Sponsor Info
|
Review Info