AquaC
was awesome enough to send over their new-ish (new at the time they sent it!) Nano Remora protein skimmer.  I was able to test it out a few months back, and now I finally have time to post my results.
The
Nano Remora
is a miniature version of AquaC's popular Remora HOB (hang on the back) skimmer.  At 13" tall x 6" wide x 2-3/4" deep, it's pint sized, and fit just fine on the back of my 15 gallon lagoon biotope nano.  Minimum tank height is 7.5".  The skimmer body is very solidly constructed of smoked acrylic to prevent algae growth, and everything about the design and construction of the Nano Remora speaks of quality and durability, which I like.  Just like all Remora models, the Nano Remora can be adjusted horizontally via two large plastic screws near the base that rest against the aquarium, and the collection cup via a large rubber O-ring that surrounds it.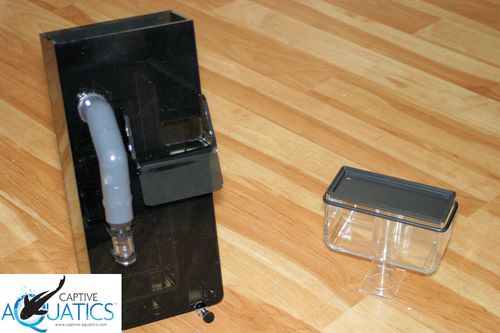 The AquaC can be used with a variety of Maxi-Jet or Rio pumps (it comes with an MJ900) which powers the Remora's patented spray injection device.  The spray injector is inside the intake tube to the skimmer, but the air intake can be adjusted with a small plastic screw accessible underneath the collection cup.  I've used every HOB skimmer AquaC makes, and unfortunately, the spray inject on the Nano Remora is just as loud as it is on AquaC's other models - in other words, too loud.  I have sensitive hearing, but I do think the noise is somewhat excessive.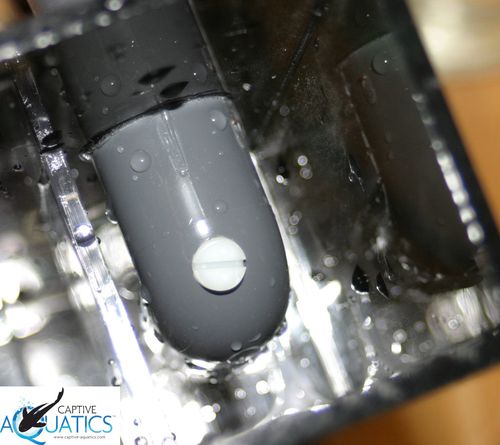 Noise issues aside, how well does it skim?  Mediocre, sad to say.  I lost the pics of the skimmate that I took after breaking in the skimmer for several weeks (argh, crappy memory card!) but a tea-colored skimmate was the best I was able to get after three weeks of tweaking.  The skimmate from the Remora Pro and Remora is much better than anything I was able to get out of the Nano Remora.  I had higher hopes for its skimming ability, but I think the compact height and subsequently compact mixing chamber hampers skimming performance.

Pros
: solid construction, one of the most compact HOB skimmers on the market
Cons
: mediocre skimming performance
Captive Aquatics blog verdict
: Fair
$140,
www.proteinskimmer.com
Like this? Please bookmark via the social bookmarking buttons below, subscribe to our
free RSS feed
, and sign up for our free weekly newsletter on the right!
---
©
Captive Aquatics™
/
Captive Aquatics™ Blog
/
Sponsor Info