We're a big fan of anyone that practices sustainable ecological principles in this hobby, and none more than
Sustainable Aquatics
.  Offering a variety of captive bred clownfish species and morphs, Sustainable Aquatics takes things one step further with their Sustainable Islands project.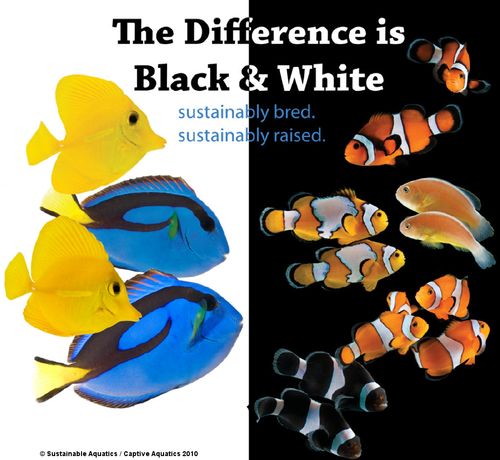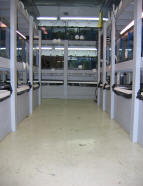 Located in Jefferson City, Tennesee, Sustainable Aquatics has a sizable operation, occupying 21,000 square feet.  This allows them not only to breed over a dozen species of clownfish, but also to udertake projects, such as captive bred Banggai cardinals, gobies, seahorses, and other species that should be available soon. In addition, it allows for their Sustainable Islands project to prosper and grow.
Why are we such big fans of Sustainable Aquatics, and not, say, ORA or C-quest farms?  Unlike ORA, SA does not sell exclusively to local fish stores, and as you may or may not know, we are not a fan of the vast majority of
local fish stores
.  C-quest is an excellent source of captive bred fish and coral as well (and we are fans of their livestock) but Sustainable Aquatics is consistently attempting to go 'above and beyond' with new projects, new ideas, and new successes, and for that we commend them.  We highly recommend the quality livestock from Sustainable Aquatics from your favorite online seller of livestock.
The Sustainable Islands™ Project

Many hobbyists are unaware of the going-ons in the collection country of origin, but it isn't always pretty.  The locales are always third world in status, and wages are meager. 

Sustainable Aquatics has been able to bring revenue and incentive for ecological preservation to the Solomon Islands with their Sustainable Islands project.  Headed by the experience and expertise of Kevin Gaines, the project consists of collecting fish that have just settled from their post larval stage on the reef, importing them to their facility state-side, and growing them out in a captive environment.  In this way wild populations are virtually unaffected (only a fraction of a percent of post-larval fish survive to adulthood, and large fish that have survived and are breeding aren't removed from the reefs) and aquarists have access to fish that have been in captivity virtually all of their lives, and have been acclimated as such. 

The Sustainable Islands project is now producing captive raised clown trigger fish, blue tang, Talbot's damsel, domino damsel, four stripe damsel, true  Solomon Island percula clown, white stripe maroon clown and tasseled filefish for the discriminating consumer, and we're proud to be able to offer their fish to our customers.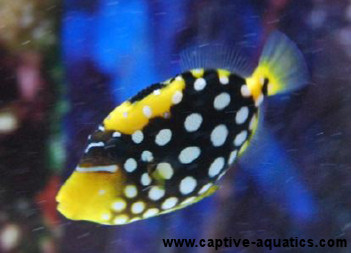 ---
Like this? Please bookmark via the social bookmarking buttons below, subscribe to our free RSS feed, and sign up for our free weekly newsletter on the right!
©
Captive Aquatics™
|
CA Blog
|
Sponsor Info
|
Review Info