Genesis Reef Systems has recently released what they claim is the most advanced aquarium auto-topoff controller on the market for home aquariums today - and they're right.  With it's ability to control six float switches, your RO unit, and monitor your aquarium, freshwater resorvoir, and sump water level by the second, this is not your grandma's auto-topoff controller!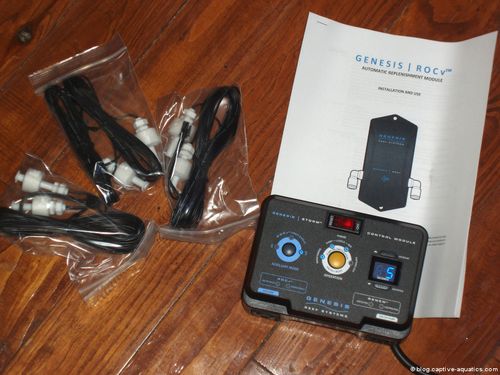 Kevin at GRS was awesome enough to send over their entire product line a few weeks ago for testing, playing, and photographing, of which I've just now had time to start on - but wish I'd done earlier!  Today I'll be showcasing the unboxing of the Storm Pro specialized auto-topoff unit with a few pics and a video, but there's lots more to come.

The Storm Pro is solidly built, and can monitor six float switches in intervals that you set yourself - as often as every second!  The Storm also interfaces with the ROCv, which will control your RO unit and monitor your freshwater resorvoir, as well as the Renew, GSM's even more advanced automatic water changing controller and system.  Enjoy the pics and the first look video, and stay tuned for the full review, as well as reviews of the Renew automatic water changing system and the ROCv replenishment modules!
---
Like this? Please bookmark via the social bookmarking buttons below, subscribe to our free RSS feed, and sign up for our free weekly newsletter!