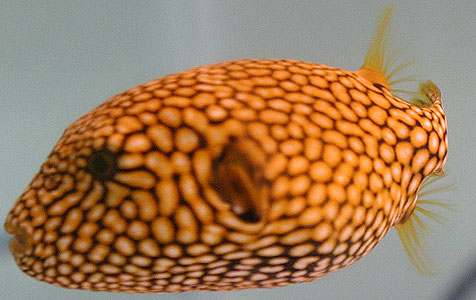 Who doesn't love pufferfish?  They're my favorite fish family, and I'd like to share some information that has allowed me to be successful with this fascinating, intelligent group of fishes.  In this  two part Puffer Primer I'll be going over the basics that you'll need to be succesful with large saltwater pufferfish!

Marine puffers are cute when small, engaging when large (who can resist those big puffer eyes), interactive, and BIG!  The vast majority of commonly (and not so commonly) available pufferfish attain lengths of 12 inches (30 cm) at the very least.  Add to this their active nature, four sharp teeth, a rambunxious personality, and messy feeding habits and you have yourself a handful.  Of course, these hurdles have never deterred me, and I'd like to share with you a few tidbits that have worked in my ten years of experience caring for marine pufferfish!


Housing
Your first hurdle will be housing your potential eating machine, as well as maintaining good water quality. This is easier said than done; you're going to need a big tank with a big filter.  In my opinion, 125 gallons (473 L) is the minimum for any
Arothron
or
Diodon
species you may want, and you'll need even bigger tank (300+ gallons) for some species, like the stars-n-stripe puffer (
A. hispidus
) or for the rarer (but beautiful) giant, the Map Puffer (
A. mappa
).  The starry puffer (
A. stellatus
) should only be kept in very large aquariums (500+ gallons). 
Obviously, the larger the aquarium, the better – if you are on a tight budget, ask your local aquarium shop if they have any used large tanks lurking in the back room, or check craigslist or your local aquarium forums for used aquariums. 


Filtration
Got the puffer tank?  Now you'll have to filter it.  A large protein skimmer is a must, as well as an oversized biological filter. Wet/dry and fluidized wet/dry filters are recommended, and a refugium is always a good addition, from which to harvest macroalgae for nutrient export.  A deep sand bed will help control the copious amount of nitrates produced and keep the nuisance algae from taking over your tank, though other denitrating options are always possible (coil, chemical ad/absorption). Ozone usage is also not to be overlooked, as ozone is excellent for breaking down organic compounds!
Don't forget the most important aspect to keeping your water in tip-top shape: water changes.  Weekly or bi-weekly water changes of at least 25% are highly recommended, and may be necessary for nutrient control.  Make sure the temp/pH and salinity of the freshly mixed water are matched to those of your aquarium water.
Next week: selecting a healthy puffer, choosing tankmates and feeding pufferfish!

---
Like this? Please bookmark via the social bookmarking buttons below, subscribe to our free RSS feed, and sign up for our free weekly newsletter!