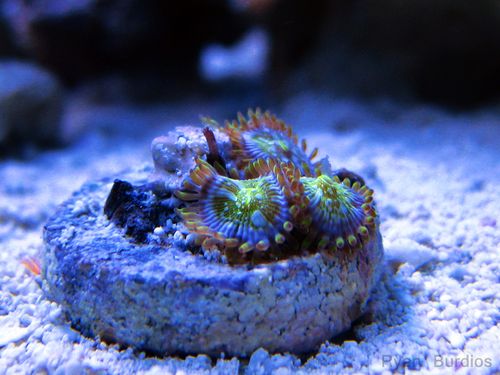 The photo above is a picture of my absolute favorite palythoas. Exactly one week after the photo was taken, my frag started showing extreme signs of stress. Each of the polyps were closed…actually, would closed and open. You could see the tentacles and mouth being choked off by the stalk of each head. I immediately started checking for any zoa pests. Nudibranch? None. Heliacus snail? Nope. Zoa pox? Negative. I've fought zoa pox in the past and it definitely looked completely different, so what was this new affliction?
I checked my tank again at different times of the night looking for nudibranchs, and still couldn't find any. Then, to my amazement, I found 3 large amphipods of about 2-3mm in size munching away on my favorite palys!  After completely dissolving away my frag, they left me with only a reusable frag plug.

I have many other zoas and palys that were untouched by the amphipods. The 'pods started to attack another frag which were of the same variety - sadly, that leaves me with 2 recycled frag plugs. The rest of my zoas and palys were unaffected! I've been checking back from time to time, and the culprits are still crawling around my tank, but nowhere near any zoas or palys.

I have been trying to find the exact species of pods, but have yet to come across anything.  Has anyone ever experienced a similar infestation?