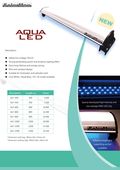 Today I received an email from SolarMax that simply contained this flier (click for full size) about a product that is apparently new, and called "Aqua LED", and uses "Special developed SMD-LED chips". 

If my sarcasm isn't apparent, I'll say it straight: manufacturers need to give us more information than what's in this flier if they expect anyone to purchase their product, as most of us like to make informed decisions (from information written in gramnatically correct English, I might add). 

This issue of a lack of information applies to more than just SolarMax, and has created a false environment where only a few diodes are taken seriously by hobbyists - and this shouldn't be the case.


This flier provides virtually no useful information - all LED product manufacturers should supply information about the light that their fixture is emitting, at the very least, not to mention other basics such as warranty info, mounting options, etc. 
I don't care what type of diode SolarMax is using, just like I don't care what kind of diode Samsung puts in my LED TV: as long as the picture quality is good, it doesn't matter.  This is also applicable in our hobby: if the light output has sufficient
PAR
,
PUR
, and
CRI
at depth and decent warranty coverage, we as aquarists shouldn't care who manufactures the diode.  However, I do care about the aforementioned PAR, PUR, and CRI, not to mention the basic physical usability of the product.  I expect to be presented  with at least some of this information before I will make a purchase!
No, Cree and Luxeon are not the end-all be-all of aquarium LED lighting technology - far from it!  By believing that a handful of models produced by
only two
manufacturers are the ultimate LEDs we pigeonhole ourselves before we've really even begun.  Is it admirable that companies like Cree and
Luxeon
haven't ignored our tiny market share and are producing LEDs for our aquariums?  For sure!  Should they be the only LED producers or models we consider, especially considering aquarium LED lighting is such a fledgling industry?  Absolutely not. 
As an example, the spectral output of
Orphek's new LED diode
looks a lot better to my eye than does the typical Cool White/Royal Blue combinations of Cree or Luxeon diodes, but this is merely opinion used to illustrate the point that other LED manufacturers need to be given a chance. 
Orphek
is to be commended along with Cree and Luxeon not only for developing a new diode to be used in our hobby, but for actually having an independent lab produce a spectrophotometry report of the spectral, PUR, and CRI output. That's informational transparency right there!  Of course, their diode is not sold individually, but it's a step in the right direction.
Why the bias towards Cree and/or Luxeon based LED lights?  Hobbyists initially flocked to these brands because both manufacturers readily release all of the pertinent data on their diodes, and aquarium forum (mis)information has led the uninformed into believing that an LED light is no good if it doens't contain Cree or Luxeon diodes.  There is a valuable lesson to be learned here by those companies that are not tranparent about the output of their diodes, and I hope more companies folllow in the steps of Cree, Luxeon, and Orphek.
Bottom line?  Manufacturers should provide us as hobbyists with plenty of information from which to make an informed decision.  No, we don't
need
to know (althought we might like to) how or where your diode is made.  We understand (or should understand) that you have an investment to protect from the rampant theft that abounds in this area.  However, we do want to know about the light your product produces because after all, that's the point, right?