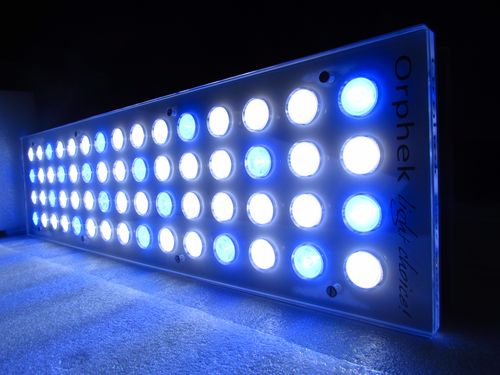 The Orphek PR-156 Fixture and all Orphek Products are considered to be 'purchase at your own risk' due to several complaints of poor warranty service that keep cropping up on



There's a decent amount of hearsay floating around about Orphek, and most or all of it is wrong. A conference call with Orphek's lawyer, Simone, got me the scoop, and the review unit she sent my way told the rest. Orphek is a Brazilian company that spent two years on R&D to produce the PR-156 led light: most of the light's components were engineered by them, including the actual diodes.

The components aren't cheap, hence the light's price, but you do get what you pay for - this is not a poorly made light with the mass-produced feel of many LED lights. I'm more impressed by the quality and color of the PR-156 than any LED light I've seen. That's the real kicker here - the color of what Orphek has dubbed their 'Power LED' is far superior to any Cree based LED light I've seen, and the reason for that seems simple: Cree doesn't make a diode for reef aquariums, and Orphek did.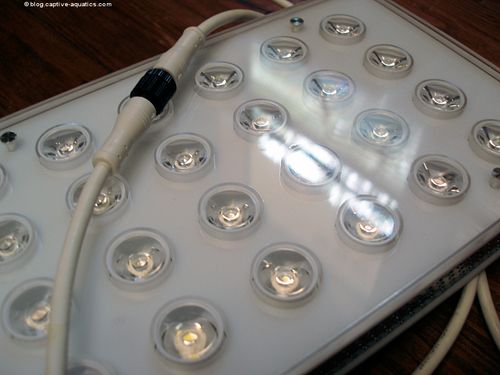 Orphek's PR-156 120w LED light packs 60 LEDs with option for 90 or 120 degree lenses running at 2 watts each (~110lm/W, making this the cheapest LED fixture in terms of $/lumen ratio) into a svelte ~24"x6"x2" housing of corsica-coated stainless steel and acrylic. The top and bottom of the light are smooth pieces of acrylic providing great water resistance and a sleek design, held together by brushed and coated stainless steel screws that sit flush with the acrylic for a clean look. My girlfriend's comment was "that looks sexy" - now how often do you hear that about an aquarium product? From my perspective (Captive Aquatics installs high end, high dollar aquariums) this is excellent news, because everything has to look good, and this light fits the bill - but enough about us.

The lights are fan cooled and the LEDs are actually being under driven, which means that the fixture runs very cool (cool to the touch), and Orphek says that the LEDs will function significantly well past the usual 50,000 hour operating time (with a 30% luminous decay over 11 years). Orphek's propriety diode offers the highest PAR:PUR ratio of any diode on the market, making it the best diode for lighting photosynthetic invertebrates available at the time of this writing, and the color rendering is noticeably uperior to the low kelvin Cree "white" diodes.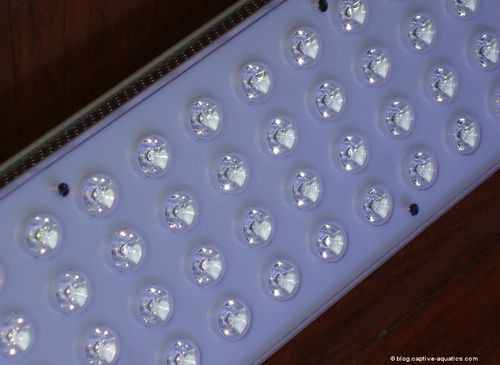 The PR-156 comes out of the box with a hanging kit a power supply box painted to match the unit, with two built in timers (one for the main light and one for the moonlights). A single cable attaches the light to the power supply via double screw connection, and is spaced far enough as to minimize any risk of saltwater damaging it. There are four polished thumbscrews that hold the unit together, sealing it. The LEDs can't be replaced without soldering, but Orphek guarantees the diodes for three years, and if one fails (or any other part) it will be repaired or replaced.

The timers are built into the power supply, and are fairly feature-rich, with the ability to control the main lights and the moonlights in a different way every single day, but most of us are just going to want them to come on and off. All electronics and power supply are ISO 9001:2000 certified, ISO14001:2004 certified, UL certified, and CE certified, and have ROHS safety approval. The power supply and an efficiency of 95% and will operate at 110 or 220 volts.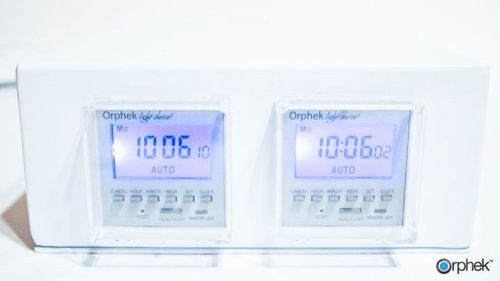 Orphek didn't bother with unnecessary "storm mode" or "dawn and dusk" effects, which in my opinion, is a good thing. Sure, gimmicky lighting effects seem to be all the rage, but that doesn't make them anything but useless, even stressful (for your coral). Say it with me now: "corals don't care"! No, your coral (or more specifically, the zooxanthellae in their tissue) do not care about dawn and dusk effects, or storm mode, or whether or not your light is dimmable, or any other "feature" that your light manufacturer is "providing" you with and is trying to bill you more for instead of providing you with a quality light that does just that: emits light. Dimming is actually stressful to coral as it alters the spectrum of the light rather than just reducing the output. Additionally, LED controllers are in violation of US patents currently.


Moonlights can be useful to induce spawning in clams, coral, and fish. Orphek's PR-156 uses four of the blue colored LEDs running at half power as moonlights, and they can be controlled wih the timer as well as the main lights, but would have to programmed manually to follow the moon's cycle - this is the only area I'd like to see a controller for.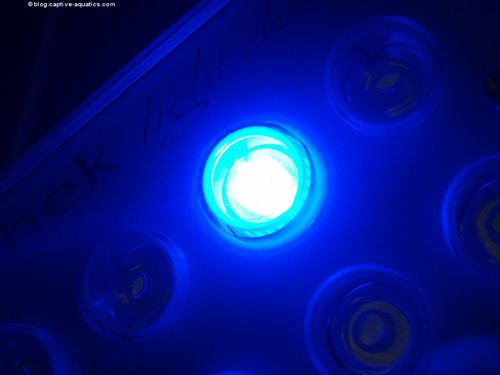 Now, to the info I know you've been waiting for: all about the LEDs. Like any LED lighting manufacturer worth their salt, Orphek has provided full-fixture (not just emitter) spectrographs (top is the regular fixture, bottom is with optional UV/true violet emitters). Folk, don't spend your hard earned cash on an any LED light without seeing the full-fixture spectrograph!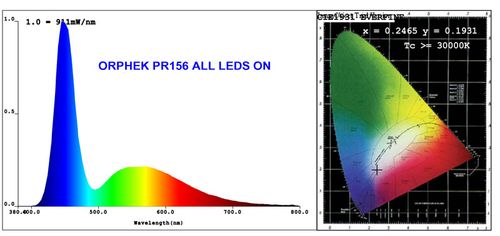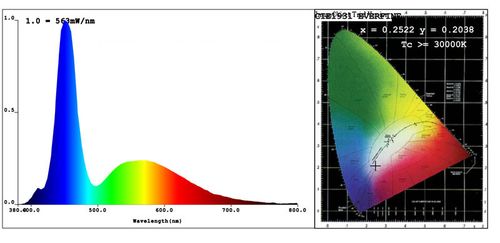 While there are plenty of non-engineers who will tell you on aquarium forums (your first clue the info is probably inaccurate; it's posted on a forum) that LEDs cannot reach a high CRI, (Color Rendering Index, or how accurate a light source protrays colors when compared to a reference light source) this is not the case. Orphek's Power LED diode I'm told was specifically created to produce a higher CRI, PUR, and greater spectral range than the current typical output of a combination of Cree cool white and royal blue LEDs. In fact, it's become a relatively common complaint that reds and purples are lacking under the spectrum delivered by the common Cree LED combinations in LED aquarium lights, something I've noticed myself.

Another nice point about this light is that both the power supply and the diode drivers are constant-current driven rather than constant-voltage, a much better way to drive LEDs - but also a much more expensive way. The benefits are diode longevity and output stability (much less spectral shifting) but the constant-current drivers are more bulky, hence the large timer/ballast box.

The overall color temperature could be called 16,000k, but that doesn't do this light justice. You can see from the pictures at the end of this review that Orphek was succesful with their full spectrum LED: the oranges and reds are more vibrant than they would be under any other LED light of the half dozen different LED lights to compare it to I have lying around. Sure, some have more blue than the PR-156, but in terms of overall coloration of my coral, I'm impressed.




The peaks in the spectral output of the PR-156 are similar to any other full spectrum aquarium light, but what's nice is that the spectral range is greater than the Cree or Luxeon LEDs commonly used in LED fixtures, starting at just around 400nm (violet) and spanning all of the way to 750nm. It's still a little heavy on the green output than I would prefer, but this is true of all "white" LEDs thus far.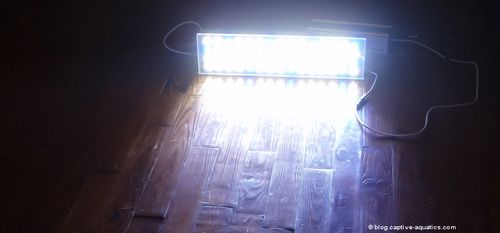 So the million dollar question: how bright is it? REALLY bright. When Orphek says the PR-156 is designed to replace metal halides in deep reef aquariums, they mean it. Check out these PAR readings I measured on Apogee's MQ-200 PAR meter roughly sticking to an area the size of the unit (24"x12"):

48": average of 275, peak of 380
36": average of 350, peak of 450
24": average of 600, peak of 650

We can all agree that these are some pretty insanely high numbers, and given that the PUR output is excellent due to the peaks in the spectral output, they're even more impressive. This is definitely not a light to be used on small aquariums, but that's not what it's designed for. Keep in mind that, like all open-air PAR readings, these measurements are fairly useless in real-world applicability, but they do give you an idea of how much energy the light emits.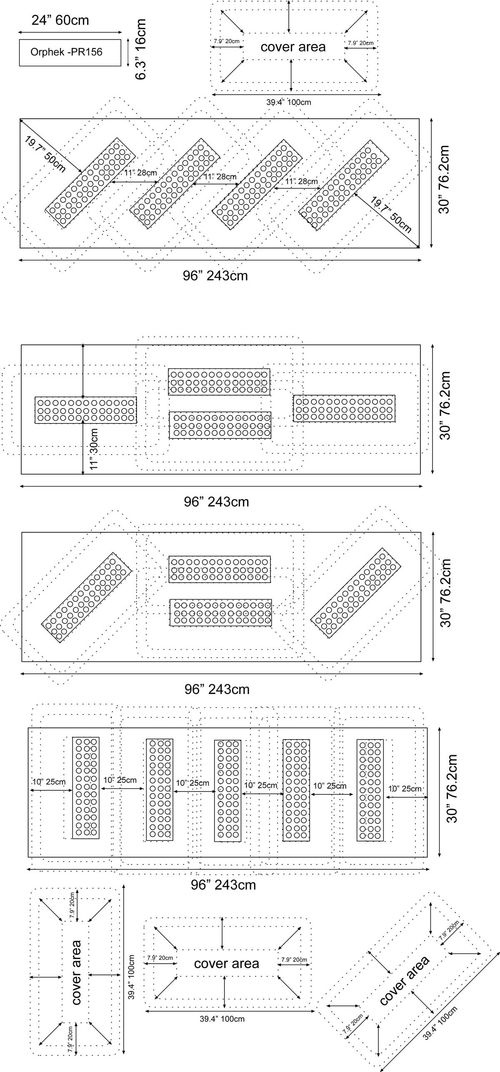 The diagram above is also useful for determining how many units you need for larger aquariums that are 36"+ deep. In my testing, in aquariums 24" deep you could use one unit for every 36 inches in length and ~24" in width. The PR-156 is so bright it can be hung quite far from the surface, increasing the spread in a 'shallow' 24" deep reef tank, so on a standard 6x2x2 tank, likely only two units would be required. (Most of the time the PR-156W wide angle fixture will be more applicable).

Orphek has mentioned that they have a few new products in R&D - could one be a nano version? I'll let you all know when I do!




Orphek's first foray into reef aquarium LED lighting is a resounding success. Orphek's engineers put in the time to build a very high quality light that filled a niche that previously relied on metal halide lighting only, and took it even further by designing their own LEDs that exceed the spectral response of the commonly used diodes in hobby LED fixture Orphek has created a great product . Here's hoping Orphek puts their awesome 'Power LED' in more products soon!



I know this was a long review, but Orphek put in a lot of time discussing this light and their new diode with me, I wanted to provide comprehensive coverage for everyone. In summary, the Orphek PR-156 is the light to get if you have a 18" or deeper reef aquarium and need high intensity lighting!



Pros: Arguably the highest quality LED fixture (and associated components) available, design aesthetics, well cooled, entirely new LED with high CRI, PUR, and excellent spectral range, very high PAR at depth, three year warranty on the diodes, included dual timers, awesome coloration and growth
Cons: somewhat bulky timer box, non-modular design
Captive Aquatics Blog Verdict: Editor's Choice (As of 10-2011, no longer recommended)
$750-950, www.orphek.com

I was provided with a review PR-156 unit for this review.

Update 11-09: since the release of this review, Orphek has made a few improvements to the original PR-156. The ballast boxes are now painted to match the light (available in black or white), they've installed new, quieter fans, the screw connects on the light cable now match the light, and the light now has an internal silicon gasket for further water resistance.

Update 12-28-10: Orphek has replaced 4 white diodes with 4 blue diodes, giving the light a bluer look, which is nice. They've also started using an even higher quality acrylic, which is more warp and scratch resistant. Additionally, they now offer a wide angle model with 120 degree lenses for those with wider, shallower aquriums (according to Orphek in most cases the wide angle unit is the better choice, unless your aquarium is deeper than 30"). Below is a pic of their updated model showcasing the new acrylic:

Updated 6-15-2011: Orphek has since released a UV/True Violet emitter, which is now an option on their PR-156 and PR-156W LED fixtures. Spectrograph for this fixture is now included in this Orphek PR-156 review.

Update 9-2011: Several customers have complained of inadaquate warranty support such as poor english communication and being asked to solder failed emitters themselves. Dealers have mentioned high failure rate of the built-in timers. Orphek apparently has no actual prescence in the USA, making things difficult if someone encounters a problem, buyer beware.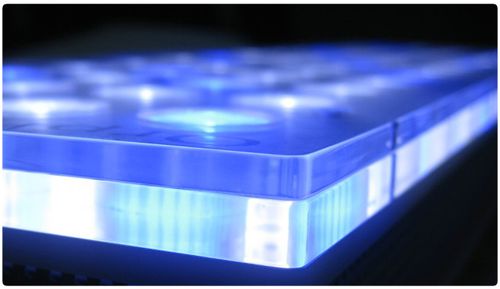 Pictures of the PR-156 in action (notice the excellent reds, oranges, and purples):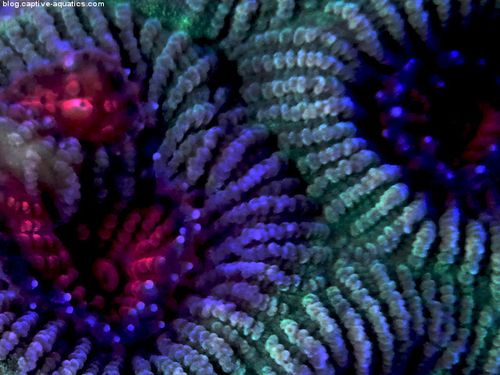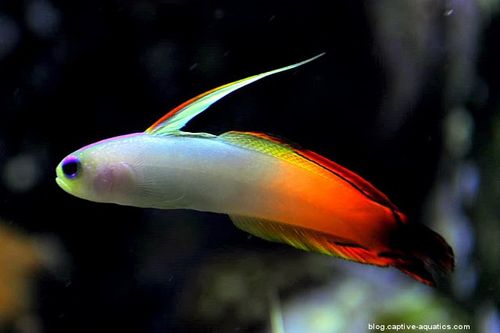 Check out more hands on pictures and reviews of aquarium LED lighting here!

All reviews are the opinion of the reviewer. See our review policy here.