Saltwater Connection has yet another product to be proud of. Their Xtreme Cone 120 and 160 are favorites among many aquarists, and the 150 BMK is going to be no different, I expect!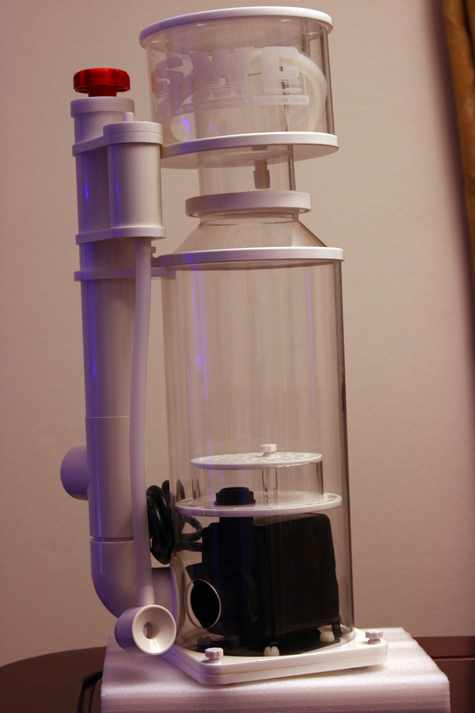 Build Quality
Upon opening of the box, I did not know what to expect since the retail value of the skimmer was much lower when compared to name brand skimmers. The 150 BMK was well packed without anything dangling or falling apart. The skimmer body is made of acrylic while the diffuser plate is made out of plastic.
So what is given up? At the price level of this skimmer, you think to yourself "What am I sacrficing?" None to very little if anything. The skimmer utilizes a wedge pipe instead of a gate valve. The skimmer is unbelievably quiet. It does not compromise much for its price.
Specifications
For those on the market looking for a small footprint skimmer, the 150 BMK is 9" x 6.5". It is 21" tall needing only 1/2" of clearance to remove the skimmate cup. The cup is easily detachable at the neck. The skimmer is intended to be in 7-10" water. Like its cone brother, the 150 BMK is using an Atman 2500 pump that pulls up to 650lph of air on fewer than 27 watts of power. The entire skimmer is easy to clean as owners can fully disassemble the skimmer with easy to use thumb screws. This was put to the test when my chaeto accidentally clogged up the skimmer. It took less than 10 minutes to clean, and only 1 minute to take everything apart and put it back together. It is rated for 100 gallons on a heavy bioload.
Performance
Having only two fishes in the tank, the skimmer is performing better than I expected. It fills most of the cup with thick dark sludge in 4-5 days and requires very little fine tuning. I've only had to do maintenance once due to a user-error, but cleaning and maintenance takes very little effort with the skimmer. The sound is almost silent and cannot be heard unless you're right in front of it.
Verdict
Having the skimmer for over a month now, I am absolutely pleased with my purchase. Still on a college budget, it was the perfect price and I feel I did not lose out on any features. Once broken in, the skimmer is an absolute beast. SWC's line of skimmers provide space saving opportunities that most nano-aquarists need. For those with small sumps, the 150 BMK will fit your needs well. It can easily fit into a 10 gallon aquarium with more than enough room for a Mag7 pump. It is priced cheaper than SWC Xtreme Cone 120 and 160. From my perspective the skimmer is better than the 120 and just performs a tad under the 160.
Reeffiltration
has the skimmers readily available for 195$. Definately put this skimmer on your list if you're searching for one.

Pros

Quiet
Space-Saving
Great Price!
Cons
Nada!
All reviews are the opinion of the reviewer. See our review policy here.