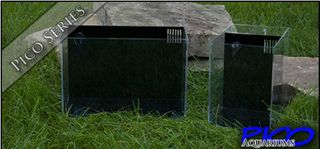 So, we're back to catching up with reviews.  Our visitors love nano and pico reefs and aquariums, so I decided to review this spiffy all-in-one 3 gallon pico aquarium sent to me by
picoaquariums.com
as a first of many reviews to come shortly!

(Please forgive the sub-par photography, I have a new camera which I obviously don't know how to work very well!)  The aquarium is a very well made rimless pico aquarium, constructed out of 3/8" glass.  When viewed from the front and sides, the minimalistic use of silicon is virtually invisible, yet the construction still feels solid. 

This model has a false back with slotted overflow, three full chambers with a media basket, and small rio return pump.  The rear compartment is constructed of black acrylic with black silicon, and is well made - there is nothing flimsy about this tank!

The sides and back of the rear compartment are glass (no cheap back plastic compartment!) that has been coated with a durable black film.  The refugium compartment could be lit on opposite schedule as the display, and no light leakage would occur. 

This tank is very well constructed, and comes with everything pictured (tank, pump, return plumbing) and is perfect for those advanced enough in the hobby to attempt a pico reef or other type of picotope aquarium.  This would be the perfect aquarium to light with
LED lighting
due to the shallow height of the aquarium.  The only thing I'd like to see is a hood from the same manufacturer!
Tank Dimensions
: ~9"x9"x12"
Capacity
: 3 gallons
Pros
: solid construction, good design
Cons
: none
Captive Aquatics Blog Verdict
: Editor's Choice
Price to be determined when manufacturing resumes,
www.picoaquariums.com
---
Like this? Please bookmark via the social bookmarking buttons below, subscribe to our free RSS feed, and sign up for our free weekly newsletter on the right!
©
Captive Aquatics™
|
CA Blog
|
Sponsor Info
|
Review Info