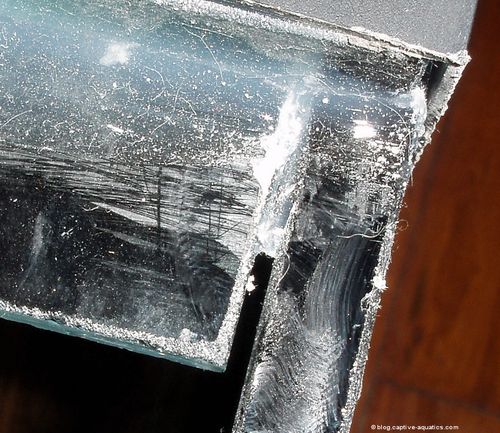 Ugly. From a seam on a brand new GlassCages Aquarium

Review of GlassCages Aquarium
I recently had the (dis)pleasure of attempting to work with a brand new Glasscages aquarium, and the only comparison I can make is that it was built like a bunker: solid with extra bracing, but with no attention to detail, craftsmanship, or style. Unlike a bunker, some aspects of construction were slipshod at best, and falling apart at worse - and this was straight out of the shrink wrap. I'm honestly astounded that workmanship like this actually allows Glasscages to stay in business, it is that bad!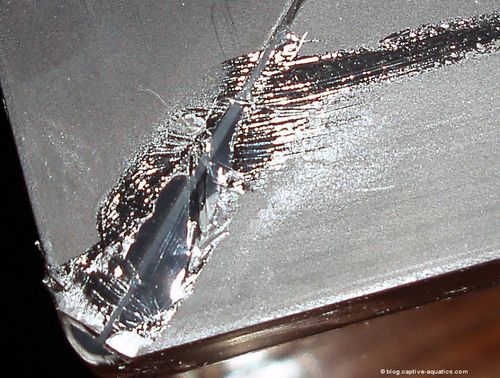 Although we usually stick to Elos or X-Aqua for our glass aquarium systems here at Captive Aquatics, we thought we would give a US company a chance - and boy, did they blow it. From day one the customer service was terrible (the employees aren't just abrupt, they're downright rude) and this should have been our first warning that things were going to go downhill from there.
After picking up the aquarium from the delivery truck location (one of the few good things about Glasscages is that they offer a delivery serice to major cities in the Southeast USA), I was presented with an aquarium featuring extremely shoddy workmanship, but I accepted the pickup anyway for the sake of the review. After unwrapping the shrinkwrap, I realized that it was virtually holding the rim on the aquarium (apparently the builders at Glasscages don't think that trims require silicon, except in excess and ugly amounts on the corners) and that they had drilled the incorrect hole size in the overflow, although the diagram I created for them had the size labeled.
After speaking with them about the incorrectly drilled hole, all I received was a rude email stating that "we don't drill holes of that size - your tape measure is wrong. That's funny, my dial caliper, accurate to .001 inches, states otherwise. In addition, the email stated "I've been doing this [building aquariums] for 20 years".
The bracing at the top of the aquarium either had zero silicon, or way too much silicon, as you can see in the above picture. Obviously no inspection is performed on these tanks before they leave the factory.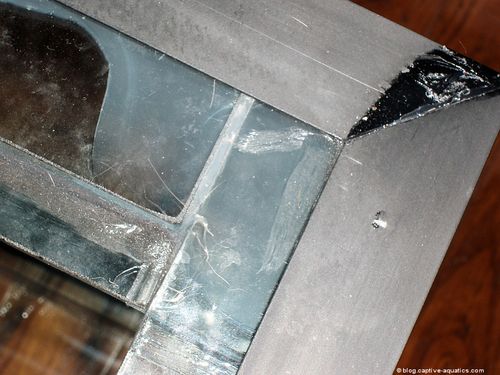 I would say you get what you pay for, but I can purchase an All Glass Aquarium cheaper, and the workmanship will be superior to Glasscages. Neither is acceptable for the systems we install, so I'll be sticking with Elos and X-Aqua, that's for sure, and I recommend not buying aquariums from Glass Cages.
Pros
: Delivery trucks, bottom interior bracing
Cons
: Terrible workmanship, very rude customer service, trim falling apart, some seams lack silicon
Captive Aquatics Blog Verdict
: Poor
Various prices depending on options, www.glasscages.com
Check out more
aquarium produc reviews here
!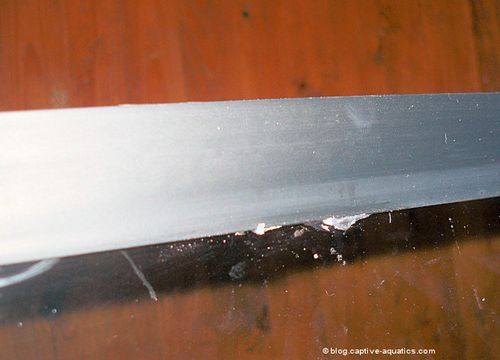 All reviews are the opinion of the reviewer. See our review policy here.